Salary-Dumping #SZN: Trade Ideas for NBA's Worst Contracts
Cap space is exponentially increasing in value around the NBA as teams recover from what, in many instances, turned out to be a reckless 2016 offseason. Scores of players signed contracts this summer worth unexpectedly low sums, a trend people around the league believe will leak into 2018 free agency, per ESPN.com's Tim MacMahon and Bobby Marks.
So, with this in mind, let us now commence Salary-Dumping SZN (sdSZN)—henceforth known as the 11-month span between free-agency periods in which franchises feverishly scour the globe for trades that strip some of the Association's worst deals from their ledger.
Participation in sdSZN is motivated by any number of factors. Some teams might be looking to clear the decks in advance of the following summer or beyond. Others are trying to skirt around exceedingly suffocating luxury-tax bills. One or two squads will always be driven by an opportunity to parlay a cap-sheet snag into a superior player.
On the other side of the fence, we have the potential destinations for these unwanted deals. These teams are galvanized almost entirely by asset accumulation. They want the sweeteners—usually first-round picks and prospects—attached to grotty contracts.
Any player perceived to have one of the league's worst deals is eligible for relocation. This look into the worst contracts at every position will be our guiding light, with only a few exceptions.
Recently signed free agents are not on the board. They can't be traded until December, and seldom do we see front offices pivot so soon. Those who still play an integral part in their team's success will be passed over as well. You don't need to feel great about the Nicolas Batum or DeMar DeRozan contracts. In fact, you shouldn't. But they're still pivotal cogs in a playoff hopeful's machine.
Finally, players on bad contracts who have already been moved this summer will not count toward the final tally. Pour one out for Allen Crabbe, Timofey Mozgov and Victor Oladipo on your own time.
Everyone else is fair game—so long as their contract can be deep-sixed within reason.
The (Probably) Immovables
1 OF 6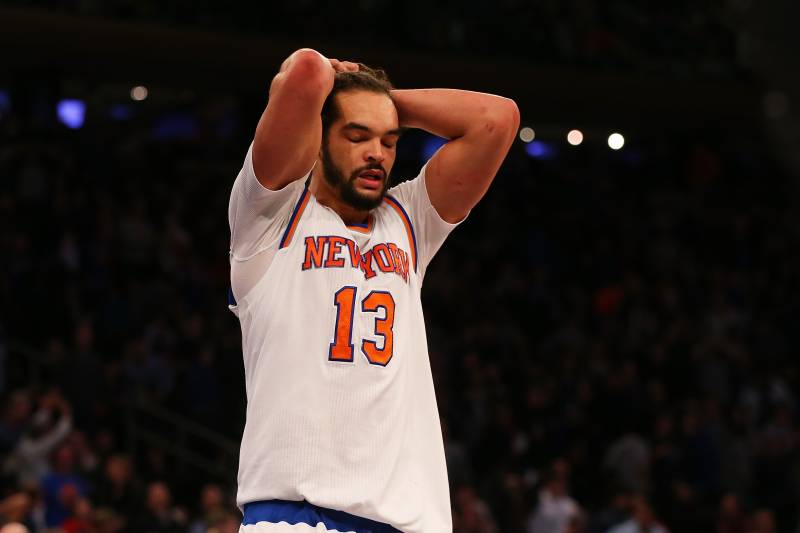 Mike Stobe/Getty Images
Omer Asik, New Orleans Pelicans (Three years, $33.9 million)
Omer Asik is in awkward territory. His contract doesn't look so bad when pitted against deals other bigs brokered in 2016, and waiving him via the stretch provision next summer, at $4.8 million per season for five years, won't seem completely crippling.
But, as far as salary dumps go, the 31-year-old couldn't be in a more complicated situation. One first-round pick won't grease the wheels, and the New Orleans Pelicans don't have the surrounding assets to beef up that offering—nor, frankly, should they be trafficking out draft choices before DeMarcus Cousins reaches free agency.
New Orleans can always try targeting teams with steeper contract obligations to actual contributors, but that's equally unappetizing prior to Cousins' decision. Most of the crummy deals at that level belong to bigs and aging (Luol Deng), injury-prone (Chandler Parsons) and ball-dominant (Evan Turner) wings anyway—player-types that don't come close to fitting the roster makeup.
If the Pelicans want to get rid of Asik, they'll likely need to stretch him or hope expiring contracts reign supreme in 2019.
Brandon Knight (Three years, $43.9 million)
Despite posting cruddy shooting percentages and the league's second-worst plus-minus before being shut down in February, Brandon Knight holds some intrigue.
Or rather, he held some intrigue.
Knight suffered a torn left ACL near the end of July and is expected to miss the entire 2017-18 season. Combo guards in their mid-20s who've shown they can work on and off the ball in the semi-recent past should never be considered hopeless causes, but they're not players you gamble on during a year lost to injury.
Ian Mahinmi (Three years, $48.1 million)
Ian Mahinmi's $48.1 million balance wouldn't be immovable if he spent 2016-17 matching or rivaling his 2015-16 performance—especially when measured against the blizzard of other 2016 overpays. Shoot, had he even finished the year in relatively good health and standing, he might be fine.
He didn't, so he's not.
Mahinmi appeared in just 31 games during his inaugural year with the Washington Wizards while battling injuries to both knees and his left calf. Whatever goodwill he built up as a quality rim-runner and defensive anchor with the Indiana Pacers is gone.
Bigs who don't space the floor are in an iffy area by default. Mix in injuries, an imminent 31st birthday (November) and three more years of guaranteed salary, and the chances of hammering out a trade before he's had the opportunity to recoup some squandered value are zilch.
Joakim Noah (Three years, $55.6 million)
Prior to the draft, Phil Jackson's insistence Joakim Noah be included in any Kristaps Porzingis trade was among the biggest roadblocks that prevented him from dealing the New York Knicks' unicorn, per ESPN.com's Ian Begley.
This says all we need to know about the movability of Noah's contract.
Chandler Parsons (Three years, $72.3 million)
Chandler Parsons' pact might be the least valuable trade asset in the league.
Market buyers cannot talk themselves into a resurgence—not after each of his last three seasons have ended with a knee injury. The Memphis Grizzlies, meanwhile, don't have the sweeteners necessary to attract salary-dumping enthusiasts.
Bottom-feeders with cap flexibility may not bite even if Memphis did. Not only does Parsons gum up the cap sheet, but a healthy version of him adds unnecessary wins to a rebuilding team's bottom line.
Hence the dilemma: Squads trying to make noise cannot count on him having an impact, while rock-bottomers cannot be 100 percent sure he won't eventually compromise the value of their draft pick.
Kent Bazemore (3 Years, $54.3 Million)
2 OF 6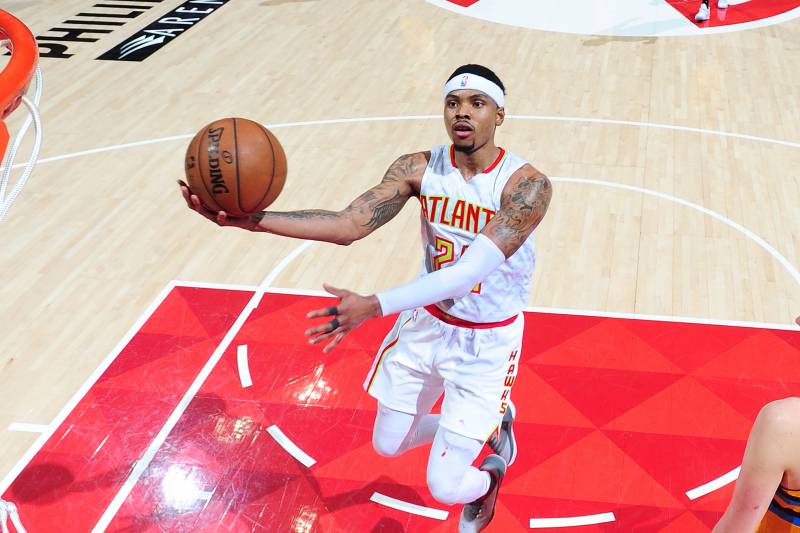 Scott Cunningham/Getty Images
Atlanta Hawks Receive: PF Kenneth Faried
Denver Nuggets Receive: SG/SF Kent Bazemore
Teams don't trade wings for bigs anymore. It doesn't happen. But the Atlanta Hawks have the flexibility to be an exception.
New general manager Travis Schlenk has made it clear the franchise is "investing in the future," per the Atlanta Journal-Constitution's Chris Vivlamore. Ergo, they're tanking. Or rebuilding without trying to win. Whatever you want to call it is fine.
Either way, Kent Bazemore no longer fits the Hawks' timeline. He's 28, and Atlanta has younger wings to test out in DeAndre' Bembry and Taurean Prince. Bazemore also saw his offensive value plummet last year. His three-point clip dipped below 35 percent, he notched a near-career-worst success rate around the rim, and Tim Hardaway Jr. supplanted him in the starting lineup by season's end.
Paying out the $50 million-plus left on his contract doesn't make sense for the Hawks. The Denver Nuggets are a different story.
Their power forward surplus coincides with a dearth of wings. Having Bazemore to pester opposing scorers on the perimeter and drill spot-up threes off passes from Nikola Jokic and Paul Millsap, his teammate in Atlanta, would be a two-way boon.
Trading for Bazemore is also a good hedge against the futures of Will Barton, Wilson Chandler and Gary Harris. All three will command new contracts by 2018-19 (Chandler has a player option), and the Nuggets will need to move at least one of them in any potential blockbusters for Eric Bledsoe and Kyrie Irving—both of whom they've been linked to since late June, according to ESPN.com's Chris Haynes and Cleveland.com's Terry Pluto, respectively.
Kenneth Faried expedites the Hawks' path to financial flexibility. He's owed $26.7 million over the next two years—less than half of what they'll pay Bazemore through 2019-20.
Matthew Dellavedova (3 Years/$28.8 Million) and Luol Deng (3 Years/$54 Million)
3 OF 6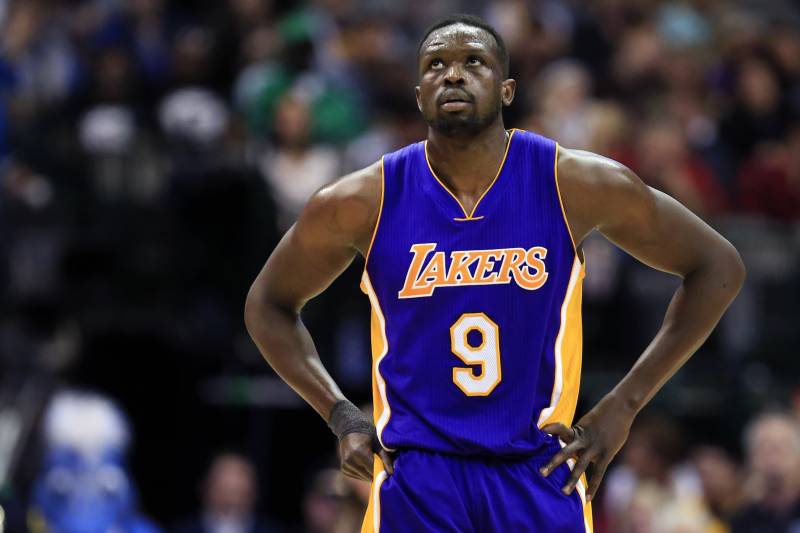 Ron Jenkins/Associated Press
Chicago Bulls Receive: SG/SF Corey Brewer, PG Matthew Dellavedova, PF/C Spencer Hawes, 2018 first-round pick (lottery protected, via Milwaukee), 2018 second-round pick (from Los Angeles, via Denver)
Indiana Pacers Receive: SF/PF Luol Deng, PF Kyle Kuzma, SG/SF Rashad Vaughn, 2019 second-round pick (from Chicago, via Los Angeles)
Los Angeles Lakers Receive: SG Dwyane Wade
Milwaukee Bucks Receive: SF/PF Thaddeus Young
During a July episode of The Basketball Analogy podcast, ESPN.com's Brian Windhorst said the Bucks wanted to get rid of Matthew Dellavedova, John Henson and Mirza Teletovic. Ditching Dellavedova in this trade is a huge win; he's the toughest to move among Milwaukee's three undesirables.
Getting back Thaddeus Young is just as important. He gives the Bucks another multiposition defender—one who can sponge up time at the 4 while Jabari Parker recovers from his ACL injury.
In their never-ending quest to create cap space, the Los Angeles Lakers started the offseason by hoping cash-rich suitors would accept an unprotected first-round pick as compensation for absorbing Luol Deng or Timofey Mozgov, according to ESPN.com's Zach Lowe. They settled on flipping Mozgov and D'Angelo Russell to the Brooklyn Nets for Brook Lopez's expiring deal and the No. 27 pick.
That selection turned into Kyle Kuzma, who is now the driving force behind our hypothetical Deng departure. The Lakers can still include another first if the Pacers or Chicago Bulls begin to bristle, but their position has strengthened in the aftermath of Mozgov's exit. They can now argue it won't cost as much to dump Deng next summer, when he'll have just two years left on his contract.
Kuzma's summer-league breakout takes care of the rest. As SB Nation's Kristian Winfield wrote:
After hitting the jackpot in the draft lottery to land Ball with the No. 2 overall pick, it appears Magic Johnson has struck gold once again. Kuzma can play both the three and four. He can guard virtually every position and has the length, speed, shooting stroke, and athleticism that fits perfectly with Los Angeles' point guard of the future.
The Pacers shouldn't pass on the 22-year-old combo forward. He packs a more versatile two-way punch than either T.J. Leaf or Domantas Sabonis and is another rookie-scale prospect they can control for the foreseeable future. Oh, and the ceiling on a Kuzma-Myles Turner pairing at the 4-5 is pipe dreamy.
Forking over Young hurts if the Pacers are trying to stave off a full-on rebuild, but he can be a free agent next summer (player option). Taking on Deng is worth the price of admission to Kuzma's and Rashad Vaughn's futures when it helps Indy lean into ground-up reinvention.
The Bulls should have zero qualms. Shedding Dwyane Wade increases the value of next year's draft pick, and they net another selection to boot. Dellavedova doesn't help their backcourt logjam, but they don't need to guarantee him playing time. They can negotiate buyouts with Corey Brewer and Spencer Hawes.
Wade is the leverage Chicago and Indiana have to extract Josh Hart or another first-rounder out of Los Angeles. If the Lakers believe the shooting guard helps their pitch to LeBron James in 2018, they'll consider giving up more to get him. Indeed, as Adrian Wojnarowski noted on a recent episode of ESPN's The Jump, team president Magic Johnson and general manager Rob Pelinka have already considered going down this route.
Bismack Biyombo (3 Years, $51 Million)
4 OF 6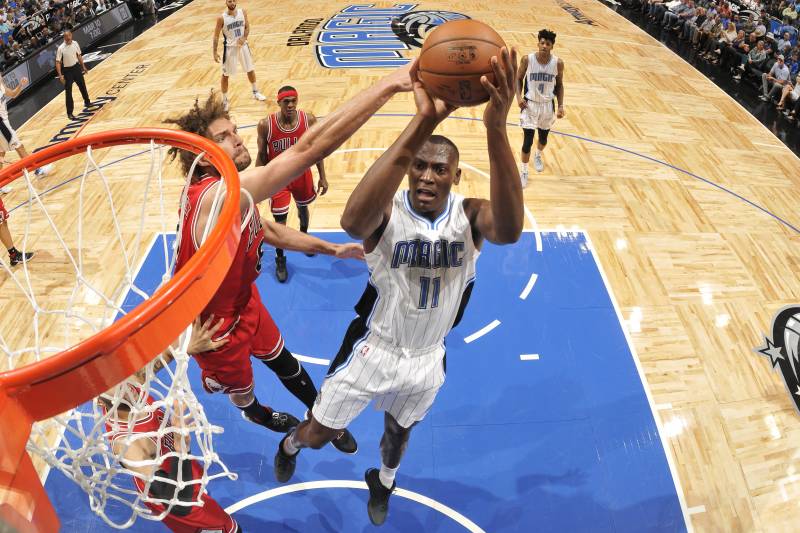 Fernando Medina/Getty Images
Chicago Bulls Receive: C Bismack Biyombo, SF/PF Mario Hezonja, 2018 first-round pick (lottery protected, via Detroit)
Detroit Pistons Receive: PG Cameron Payne, PG Elfrid Payton, SG/SF Terrence Ross
Orlando Magic Receive: PG Reggie Jackson, C Robin Lopez
Chicago is doing its best Brooklyn impression here.
Bismack Biyombo is wildly overpaid, but he's just 24 and barely a year removed from a stellar 2015-16 in which he played the part of efficient pick-and-roll finisher and reliable shot-blocker. The Bulls have three years to unlock that player. Worse comes to worst, they're taking on dead money for the first three years of a thorough rebuild while gaining a combo-wing prospect in Mario Hezonja and another first-rounder.
Rendering a verdict for the Detroit Pistons is tough. Their stance on Reggie Jackson remains unclear. His name is frequently bandied about the rumor mill, usually in exchange for lukewarm returns. The latest deal that wasn't: Detroit discussed sending him to New Orleans for Alexis Ajinca, E'Twaun Moore and, maybe, Quincy Pondexter, according to Basketball Insiders' Michael Scotto.
The Pistons make out like bandits here with that framework as a guide.
Elfrid Payton's jumper is still busted, but he's a plus playmaker who, unlike Jackson, doesn't need to be stashed on lesser defensive assignments. Terrence Ross isn't Kentavious Caldwell-Pope or Marcus Morris, but he's converted no less than 36.6 percent of his catch-and-shoot threes since 2013-14. Adding another spot-up sniper like him opens some nice four- and five-out lineup combinations.
Jackson caught the Magic's eye around the trade deadline, per Lowe. That interest may have subsided following a regime change in the front office, but Payton is coming up on restricted free agency and has never piloted an above-average offense.
Though Jackson's value cratered during an injury-marred 2016-17, the Pistons couldn't function properly without him in 2015-16. Getting him at a defined price tag, after he's had an entire summer to recuperate, beats the question-mark cost of Payton following next season—infinitely so when Aaron Gordon is nearing restricted free agency himself.
Pawning off Biyombo seals the deal for the Magic. They're essentially subbing in Jackson's salary for his, while the two years remaining on Robin Lopez's contract are a hair more expensive than Ross' final two seasons.
Best of all, the Magic finally forge a palatable frontcourt pecking order. Lopez can back up Nikola Vucevic without issue, and neither Gordon nor Jonathan Isaac will have to worry about spending too much time at the 3.
Evan Turner (3 Years, $53.6 Million)
5 OF 6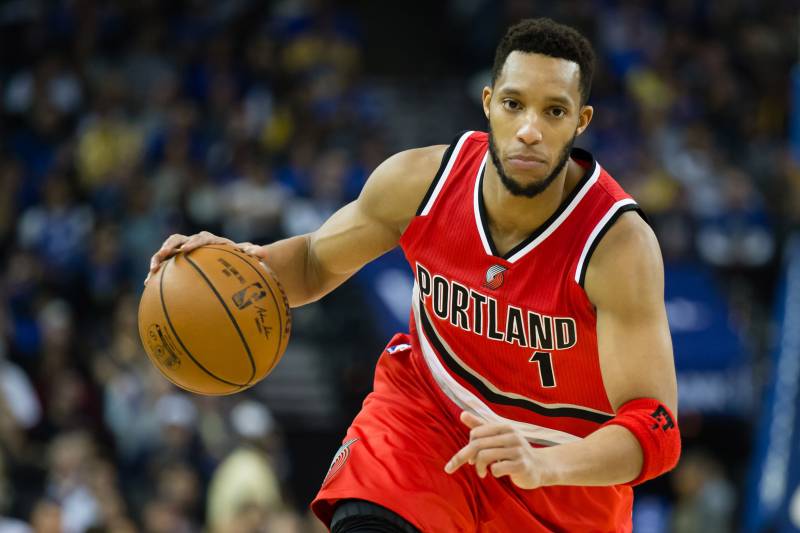 Kelley L Cox-USA TODAY Sports
Brooklyn Nets Receive: SF Evan Turner, PF Noah Vonleh, 2018 first-round pick (lottery protected)
Portland Trail Blazers Receive: SF/PF DeMarre Carroll, SG Sean Kilpatrick
The Nets and Portland Trail Blazers already broke bread by swapping Andrew Nicholson for Allen Crabbe. They might as well do it again.
Dealing Evan Turner requires at least one first-round treat, as Lowe noted shortly into this summer's free-agency period. Portland is basically sending out 1.5 such goodies in this scenario.
Noah Vonleh is ticketed for restricted free agency next season, and the Blazers shouldn't be the ones bankrolling his next contract. They need to pay Jusuf Nurkic, and Vonleh—with the exception of a semi-extensive stretch to close 2016-17—has been maddeningly consistent.
DeMarre Carroll and Sean Kilpatrick help the Blazers more in the immediate run. Carroll is a fit upgrade over Turner by virtue of a shorter, cheaper contract (two years, $30.2 million) and his past long-distance credentials. He canned 37.2 percent of his deep balls between 2011-12 and last season, before dropping to 34.1 percent through 2016-17. If he returns to pre-Toronto Raptors form, he blends the best elements of Crabbe and Turner—off-ball shooting with defensive range.
Stretching Carroll next summer, as an expiring contract, is also an easier pill to swallow if Portland is squeezed for cash and unable to offload him. Kilpatrick is likely a one-year rental, but where the Nets have stocked their roster with ball-handling guards and wings, the Blazers don't have nearly as many behind Damian Lillard and CJ McCollum.
Eating the $53.6 million left on Turner's deal drives up the Nets' operating costs after an already expensive offseason. They'll be paying $51.7 million to Crabbe, Mozgov and Turner next year, with each of them signed through 2019-20. But that may perfectly align with their intended timeline, given how they've proceeded thus far.
"They could have signed Kentavious Caldwell-Pope to a one-year deal instead of tying up cap space on Crabbe through 2020," Lowe wrote. "Depending on what happens with Lin and other free agents, the Nets may be out of the salary-dump game until then."
By the way: Let's not write off a quasi-turnaround from Turner in Brooklyn. He should have more freedom to handle the ball under head coach Kenny Atkinson, similar to what he enjoyed when playing for Brad Stevens in Boston.
Ryan Anderson (3 Years, $61.3 Million)
6 OF 6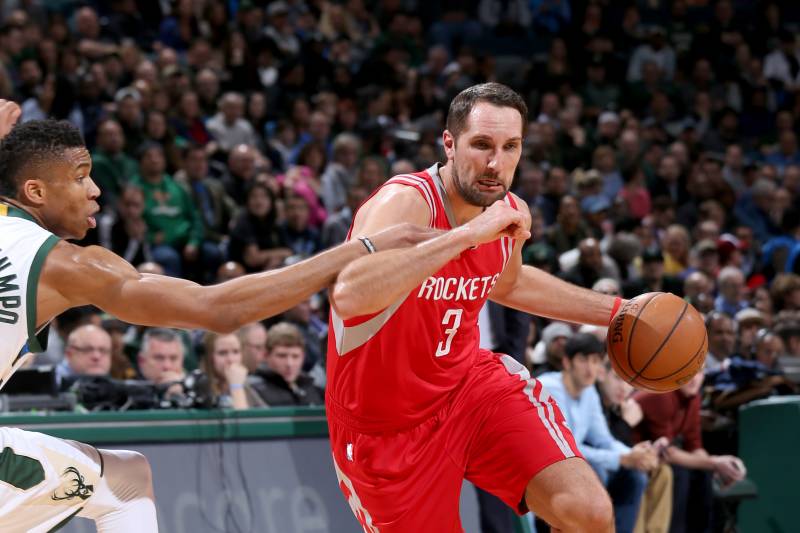 Gary Dineen/Getty Images
Houston Rockets Receive: SF/PF Carmelo Anthony
Milwaukee Bucks Receive: PF Ryan Anderson, C Tyson Chandler, PF Shawn Long (non-guaranteed), PG Isaiah Taylor (non-guaranteed)
New York Knicks Receive: C Greg Monroe, PF Mirza Teletovic, 2020 first-round pick (top-one protected, via Houston), 2018 second-round pick (from Toronto, via Phoenix), 2018 second-round pick (from Charlotte, Memphis or Miami, via Houston)
Phoenix Suns Receive: C John Henson, SG Tim Quarterman (non-guaranteed)
Carmelo Anthony owns a no-trade clause. As of now, he's only willing to waive that no-thanks proviso for the Houston Rockets, per the New York Post's Marc Berman. Any deal with Houston must include a new home for Ryan Anderson, and the Knicks have no intention of welcoming him to The Big Apple.
So hello again, Milwaukee.
In this world, the Bucks may have already acquired Mr. Thaddeus Young. That's fine. They can bring Anderson off the bench as a souped-up Teletovic. The lankiness and switchability they'll have in Young, Giannis Antetokounmpo, Malcolm Brogdon and Khris Middleton should even allow for effective lineups that feature Anderson at the 5.
Lest we forget, the Bucks want to offload Dellavedova, Henson and Teletovic. All three of them are now gone. They save a year of cap space by shipping out Henson's three-year deal for Tyson Chandler's two-season commitment, and Anderson will be an expiring contract by 2019, when the Bucks will have the means to dredge up some serious wiggle room.
This return for the Knicks isn't anything special. They also can't demand anything more. They get a first-round pick while saving a boatload of money. Greg Monroe and Teletovic will add around $2.1 million to this season's payroll, but they gain $17.4 million in 2018-19 by losing Anthony's $27.9 million early termination option.
Selling the Suns on Henson isn't an implausible task. He's more than eight years Chandler's junior and only under contract for an extra year. With the latter two seasons of Alan Williams' deal non-guaranteed and Alex Len growing stale on the free-agent market, the Suns have room for a shot-blocking, rim-running dice roll. That'll ring even truer if they succeed in using Bledsoe and Dragan Bender to reel in Kyrie Irving—as 1500 ESPN's Darren Wolfson says they're trying to do.
And as for the Rockets, well, we needn't worry about them. They land one of Chris Paul's besties while forfeiting only Anderson, picks and non-guaranteed deals. They'll have Anthony's jersey folded and pressed and waiting for him at a name-plated locker before hanging up the phone.
Dan Favale covers the NBA for Bleacher Report. Follow him on Twitter (@danfavale) and listen to his Hardwood Knocks podcast co-hosted by B/R's Andrew Bailey.
Stats courtesy of Basketball Reference or NBA.com. Salary information via Basketball Insiders, Spotrac and RealGM.
source:http://bleacherreport.com